On the Second Day of Christmas, my muse has inspired me to a rather long cinematic reflection
**************
I am something of a sucker for romantic comedies. Recently for instance, I have been re-watching When Harry Met Sally and I will occasionally dip back into films such as 13 Going On 30, a minor classic in its own way. Yet at the end of the day, these do not much reflect reality – not for the conventional reason that "things never go as serendipitously in real life" (true though that is) but rather, because life is not really about first love at all, its about first break-up and, if you are lucky, the second romance.
Hence I keep to hand what I refer to as the Canon of romance films, several of which I have forced upon my friends at critical moments of their love lives, when I feel particularly inclined towards interfering in a slightly passive-aggressive way (even your best friends never really want to hear you true opinion about their love interests, despite asking; so best keep dumb and use alternative methods of expressing yourself like "hey I haven't watched Fatal Attraction for ages!" and hope they get the hint about their slightly menacing ex who walks around with a kitchen knife hovering dangerously).
I also feel that each of the Canon speaks to me, each in their different ways, about key asymmetries in love, as in life. More than anything, the criteria for entry into this hallowed list is that it cannot be a simplistic "happy ending", just as real life cannot be. Despite being listed as "romantic comedies", these films leave you feeling unsure, as they should. So here are some of the must-sees before understanding one's own romantic existence.
500 Days of Summer (2009)
This is of course the best example of romantic "asymmetry". 500 Days really captures that post break-up introspection when you look back and think "well shit, I got that completely wrong!". The cognitive dissonance between what you thought was happening and what, in fact, had occurred is one thing; but even more critical is the dissonance between what you perceived and what the other perceived over the same matter. The missed half-glances, the unheard comments, these are the seeds of your own romantic destruction.
Two human beings will never understand each other, of course; this is a Cartesian truth. But in our minds, the possibility of meeting minds is the basis of all hope for love. This film demonstrates the fragility and, frankly, the unlikelihood of such a situation. You will never truly understand your other half so do not waste your time trying.
Definitely, Maybe (2008)
Perhaps a strange choice as judged by the "happy endings" criteria, but bear with me. Officially, Definitely, Maybe ends with the "right" girl being picked by protagonist Will Hayes (and I admit, Will speaks to me due not only to his romanticization but his ability to live his life through contemporary politics and get lost in "moments" such as Bill Clinton's indictment). But actually this is not doing the film justice: on a basic level, Will does not even end up with the woman who is his daughter's mother, breaking at least one element of conventionalism.
But the more poignant issue are his three female options. The (I think unwitting) genius of the film is the way that whilst the narrative pushes the viewer towards accepting April as the "right girl", actually most people end up having differing opinions. I know people who have watched it and wished he ended up with Emily, his college sweetheart, or Summer, the robust intellectual (for the record, she gets my vote).
The point being made is that whilst one can – indeed, should – believe in "true love", this is not the same as believing in one true love. If you are lucky, you may go through life meeting half a dozen people who are the right one. They are all your true love, depending on where you are; and they are all set apart from the majority who are all wrong for you; but true love does not hinge on a single individual. Romantic choices are real, after which it is only practical choices which matter. In that sense, this is not a "happy ending".
那些年,我們一起追的女孩 (2011)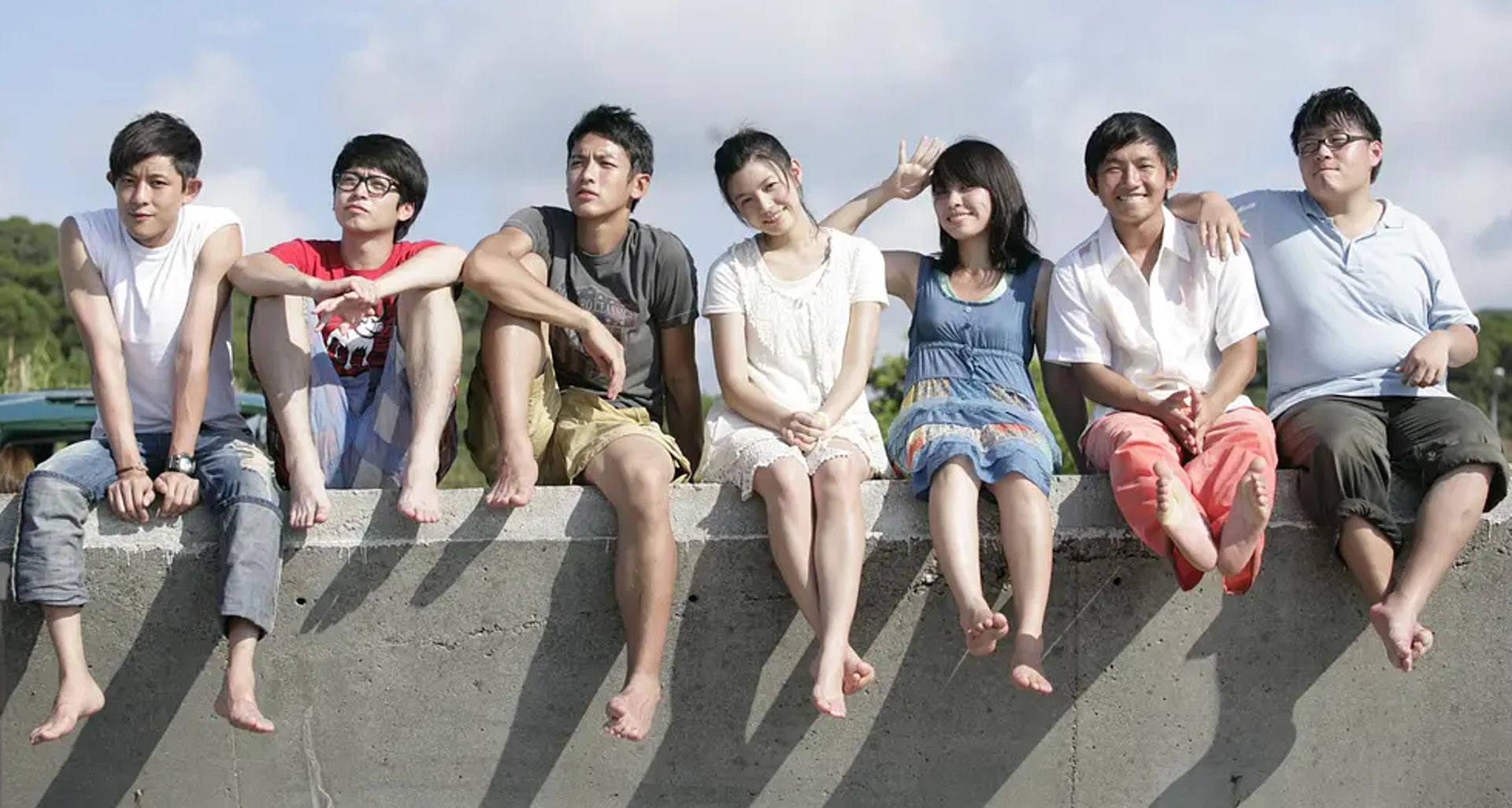 Somewhat torturously translated as You Are The Apple Of My Eye, 那些年 captured the hearts and minds of cinema goers not just in Taiwan but also Mainland China when it was released, which from a socio-political perspective actually provides some insights as to how similar life is on the ground for young people between China and its renegade province, probably to the shock of all. But the schooldays nostalgia is only one theme: the other is living with the what-might-have-beens in life.
The unhappy ending is in a sense obvious, since despite all the dramatic interaction between the main characters, they do not end up together and the girl gets married to some nondescript other (any person you still harbour affections for will always end up marrying someone nondescript, that's a golden rule). But this film really pokes in the eye the peculiarly Asian adherence to hyper inflated romance, and the world of the grand gesture which is often assumed to trump all. In reality of course, people will make practical choices and they will also move on; if you do not nail down someone in that romanticized moment – which is possible – then your window closes. And then you are left exactly as a window leaves you: peering in from the outside at what might have been, but without really know anymore if the vision inside is quite what you think it is.
You do then however, have to laugh and make fun of yourself, and it.
The Break-Up (2006)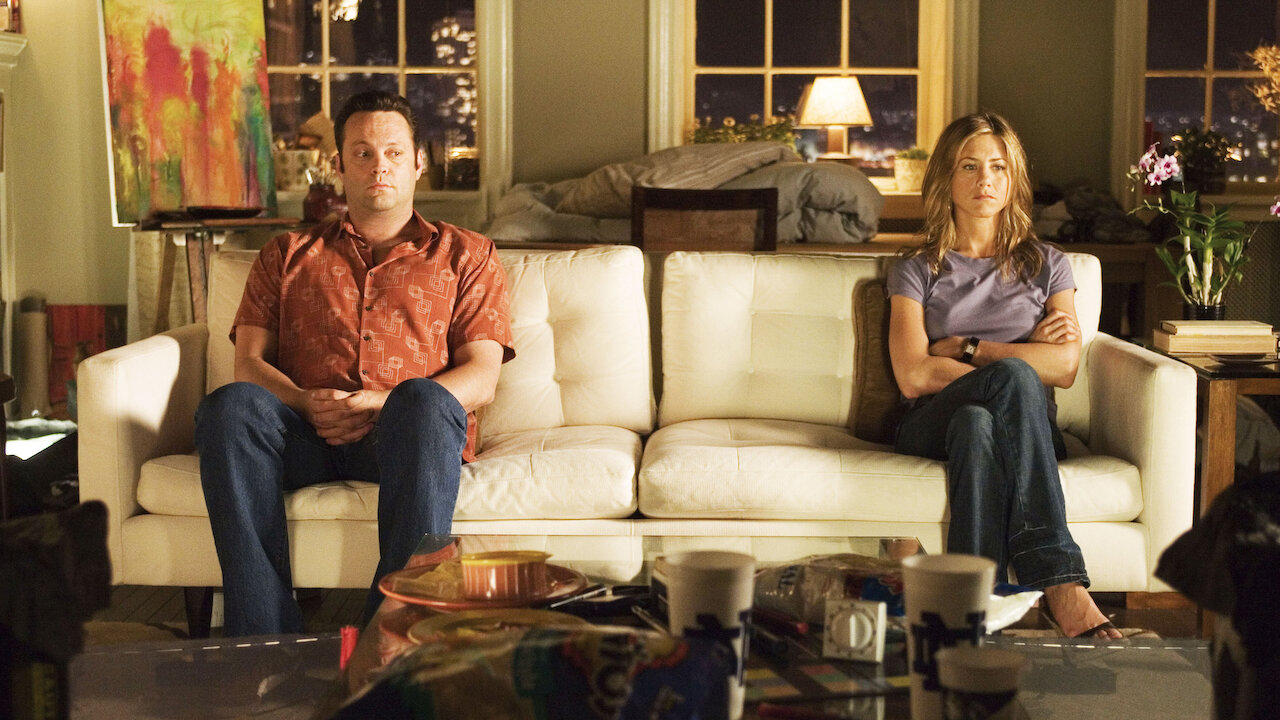 This is actually a quite brilliant and disturbing film, even in its funny moments. It really changed my view of both Vince Vaughn and particularly Jennifer Aniston, coming as I did from a childhood of watching her being the annoying and selfish Rachel in Friends (and yes, they were on a break). The film has the dramatic tension of an Arthur Miller play, with some scenes of such deep pathos that one might think that Vaughn (who co-wrote this after being mostly the straight man in comedy classics such as Old School) had reached straight into your own past and pasted its contents on screen.
I think the main takeaways from The Break-Up are that even those who are each other's true loves (see above) can and often do break up. Being right for each other does not make being a success a foregone conclusion, and life may contain numerous right people, many of which end up being "failures". Neither does failing with someone diminish their "right-ness". The other point the film makes is that break-ups are tragedy microcosms, full of the specific choices one makes at given moments in time. Life, overall, is precisely about such choices and fate is decided upon these tosses of a coin. When Gary chooses not to go to the concert at the end, of course you could take a step back and say "oh well, he is emotionally repressed and incapable of expressing himself or being brave enough to put himself on the line", and that is partly true. But in fact, his decision is being made by the finest of margins, whilst trying to make sense of a maelstrom of emotions. He doesn't know where he is, where she is, where this is going. Why would he?
The Break-Up is a great film for rewatching, precisely because despite knowing the ending (they do not get together, although there is a hint of promise) you cannot draw yourself away from a horrified fascination. It is like watching Macbeth. This makes it a classic.
The Last Kiss (2006)
Another heavy-hitter even amongst the Canon – albeit this one mainly for guys rather than girls. Almost every scene and every subplot in is packed with poignancy: seeing your ex at an event with your group of friends; the intensity that a newborn baby brings to up-end your life; the moment a friend with benefits suddenly needs something more. Most of all, the group of slightly ageing, obligated men deciding to run away from it all to go on a road trip, only to slowly realise they cannot and drop away one by one. These are the stories of our lives.
As far as the true romance goes, the main themes that are confronted include the existence of temptation, how to deal with it, and the fact that after such major exogenous shocks, it will all never be the same again. People in relationships change from being their other half's "superhero" to just another normal person, in the same way that parents do so in the eyes of their children over time. Real love therefore – if it exists at all – is where you work through all those trials and tribulations to get to the real, sustainable stuff at the other end. Only there will you find whether it works or not. Whilst the end of the film does proffer hope about things working out, the important point is that this is no longer the old love, like a snake shedding its skin, Love 2.0 has to be ever changing and new. Love is a shark, it needs to move or it will die.
I must also add that The Last Kiss contains one scene, where the protagonist is slowly being caught in a lie by his other half, which churns the stomach of every guy I have sat through this film with. There is that moment of "uh oh", the rapid calculation over at what point the lie needs to change or one has to cut losses and come clean. This battle is at the very heart of the male psyche.
**************
There are a few other honourable metions: When Harry Met Sally (1989) does have some great moments (including the assertion that guys cannot be friends with girls without sex playing a part – which is true). 13 Going On 30 (2004) is once again about choices – the only way you can get back your past is apparently through magic fairy dust (in other words, you cannot). A more recent film was How To Be Single (2016), which almost reaches Canon status in its assessment of modern urban romance and optionality, but I am unclear at the end as to whether this is supposed to be a happy ending or not. It's a pretty good watch though, and the formula for total units of alcohol consumed between two parties and whether this means they will sleep with each other is a good one.
The long and short of all this is, I am a romanticized person – probably overly romanticized if anything. Yet the Canon demonstrates that it is the romanticization which causes the greatest problems and is the riskiest approach towards love in the first place. It is perhaps the only area of human existence where the majority of people, who are otherwise conservative in their choices, suddenly become gamblers and indeed will bet again and again. It is inexplicable; and therefore the Canon may make the inexplicable just slightly more explicable.